Dr. Jasmin S. A. Link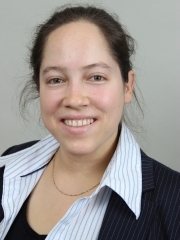 Associated researcher
Address
Universität Hamburg
Office
Room: working from home
Contact
Institute of Sociology
Department of Social Sciences
Universität Hamburg
Research Group Climate Change and Security
Institute of Geography
Cluster of Excellence CliSAP
Universität Hamburg
Jasmin Link (née Kominek) studied Mathematics at Universität Hamburg. In her Diploma thesis in pure mathematics she proved a theorem in analytical number theory applying tools from algebraic number theory.
In her doctoral research in Sociology she focuses on path dependency, supervised by Prof. Jürgen Beyer. Co-supervised by Prof. Jürgen Scheffran, she seeks to apply sociologically gained model bases in mathematical models on human-environment interaction, as e.g. considering cascading effects and tipping points, searching for preventive intervention strategies. Current research involves an assessment of possible risks and consequences of climate engineering in the EuTRACE project.
Jasmin is also involved in the setup of an "International Young Researcher Network in Complex Systems Studies". If you are interested, please contact Jasmin for further information or get involved yourself here.