Prof. Dr. Jürgen Scheffran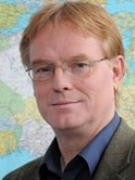 Principal investigator of CLISEC
Address
Universität Hamburg
Faculty of Mathematics, Informatics and Natural Sciences
Grindelberg 7
20144 Hamburg
Office
Room: 2015
Contact
Fax: +49 40 42838-9211
Research Group Climate Change and Security
Institute of Geography
Cluster of Excellence CliSAP
Universität Hamburg
Jürgen Scheffran is professor at the Institute of Geography of Universität Hamburg and head of the Research Group Climate Change and Security (CLISEC) in the Excellence Initiative "Integrated Climate Systems Analysis and Prediction" (CliSAP) at KlimaCampus Hamburg. He is Associate Member of the Center for Science and Peace Research (ZNF) and Faculty Affiliate of the Program in Arms Control, Disarmament and International Security (ACDIS) at the University of Illinois. 
After his physics Ph.D. at the University of Marburg he worked in the Interdisciplinary Research Group IANUS and the Mathematics Department of the Technical University of Darmstadt, at the Potsdam Institute for Climate Impact Research (PIK), and as Visiting Professor at the University of Paris (Sorbonne).
Before he came to Hamburg in August 2009, he spent five years at the University of Illinois at Urbana-Champaign (UIUC), where he held positions in the Departments of Political Science and Atmospheric Sciences, at ACDIS and the Center for Advanced BioEnergy Research (CABER).
His research and teaching interests include: 
energy security, climate change and sustainability science; 
complex systems analysis, mathematical modelling and computer simulation; 
technology assessment, arms control and international security.
He served as advisor to the United Nations, the Technology Assessment Bureau of the German Parliament, the Federal Environmental Agency, and he took part in the German delegation to the climate negotiations in New Delhi in 2002 (COP-8).
Recent activities include the ConflictSpace project, the Renewable Energy Initiative in Illinois and projects funded by the Environmental Council, the Department of Energy and the Energy Biosciences Institute. He organized the KlimaCampus conference on climate change and conflict at University of Hamburg in November 2009.
More information about previous and on-going work can be found at the websites of CLISEC, the Institute of Geography and the Center for Science and Peace Research (ZNF) at University of Hamburg.
Publications
Journal articles
Book chapters & conference proceedings (refereed)
Edited books and journals
Working papers
Conference papers
Posters
Other publications
Supervision of theses
Ph.D. theses
M.Sc., B.Sc. and Diploma theses